2002 Silkenfest
October 6, 2002
Judged by: Barbara Ewing, Kirov Borzoi
"First, I want to say that it was an honor to be asked to judge at Silkenfest. I know how much effort has gone into the development of the breed, and how hard all of you are working for recognition. It's obvious that your efforts are paying off in both the quality of the entry and the temperaments on the dogs shown to me.
I enjoyed seeing the two lovely veterans, obviously past their prime, but still showing the quality that they have passed down to their descendants, many of which I judged earlier in the day.
Overall I was pleased with the quality of the entry. There was a range of styles much the same as I see injudging Whippets and Borzoi. Bites were all good, I don't recall any missing teet except in the veterans and I would expect those were due to wear and tear. I realize that prick ears are acceptable under the current standard, and that you'll probably try to move away from them in the future, but be careful that you don't end up with the big heavy ears that we see in several sighthound breeds today. There is also a balance to be struck between side gait and should structure. We all like to see dogs with nice reach, but not at the expense of a well set on and muscled shoulder assembly. Often the dogs with the greatest reach have the least shoulder muscling, and while it may look nice in the ring, this is not a correct and functional front for a running hound.
I wish you luck with your pursuit of AKC recognition, but caution you not to let show results influence your direction as breeders. The breeders more than anyone know what is ideal for their breed, and need to protect it from the whims of the show ring."
Best in Specialty Show
Winners Bitch/Best of Winners


Best Opposite Sex in Specialty
Winners Dog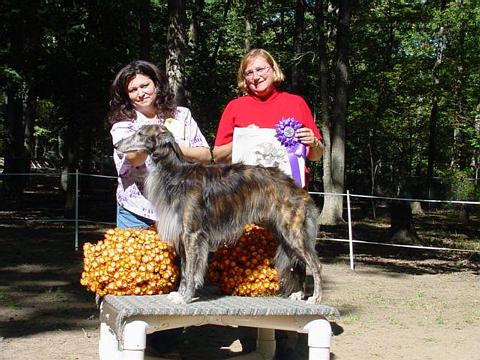 Best Puppy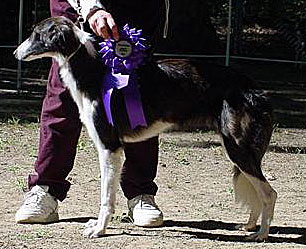 Best Bred-by Exhibitor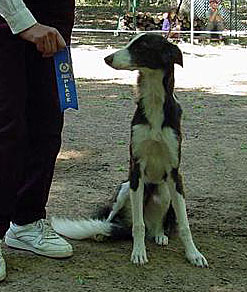 Dog Classes

Puppy Dog 6-9 Months

Windspirit Apache
Irish-marked brindle dog, very elegant with sweeping lines. He had lovely sidegait and was good going away, although he moved a bit narrow in front, typical for his age group. Maturity and the additional substance that comes with it will only enhance his quality.
Kristull Yashi
Self black and tan, similar in type and quality to the winner, also could use a bit more substance.
Cool Run Enchanted Snow Dust
The most mature of the 3 in this class, this dog had lovely substance, muscling and rin spring, however he didn't use himself as well on the move as did the others.

Puppy Dog 9-12 Months

Cool Run Enchanted Myles
White and brindle dog, nice size and substance, pretty outline with a solid, athletic build. A bit more training would allow him to show off his nice movement.


Novice Dog

Kristull Rhett
Elegant fawn brindle with nice lines and angles, especially in the rear. Showed nice side gait once he settled down. I would like to see better feet on him, but overall, he's a nice, young dog.

Bred By Exhibitor Dog

Windspirit Austen
Dominant black with white trim. Lovely outline and head with dark eyes. Strong topline, good going away but a bit close in front. Lovely side gait and balance.

Open Dog

Kristull Dante by Cool Run
Lovely, mature self-brindle male. He is the perfect blend of sound structure and muscling, substance with elegance and lovely, athletic side gait. Dead true on the down and back, pretty head and dark eyes. his flowing coat was a nice finishing touch to this outstanding dog. He was awarded Winners' Dog.
Kristull Cezanne by Cool Run
Another nice self-brindle male, also of very good quality, soundness and movement, but his topline wasn't as correct as the winner and he was somewhat out of condition.

Veteran Dog
(ineligible for points)

Kristull Incognito


Bitch Classes

Puppy Bitch 6-9 Months

Windspirit Amariah
Leggy and elegant black and white bitch, should gain body with maturity, but shows lovely movement both coming and going and from the side.
Cool Run Enchanted Bliss
Feminine, yet substantial black and tan with brindle points, she had beautiful spring of rib and muscling, but is at an awkward growth stage which put her a bit high in the rear. Nice angles and movement once she settles down, should only get better with age.


Puppy Bitch 9-12 Months

Cool Run Enchanted Starlight
White and brindle bitch, nice substance, proportions and muscling with correct angles. I would like to have seen more reach from her when going around.


Novice Bitch

Kristull Tiara
Self brindle with good soundness, muscling and substance. Quite feminine with nice side gait, even if a bit refined.


Bred By Exhibitor Bitch

Windspirit Arabela
Irish-marked brindle bitch with light and easy side gait. Nice topline, angles and head, she should be really outstanding when she's mature.
Kristull Gimlet
Irish marked brindle with a beautiful head, a bit flatter in topline than the winner, but showed correct, light movement.
Cool Run Enchanted Morgana
White and brindle, nice substance and muscling, not as balanced in angulation as the bitches above her which showed in her movement.


Open Bitch

Kristull Dabisha Allagante
Self brindle bitch, showed the same style and qualities as my open dog winner; beautiful type, athletic structure, sound movement and efficient side gait. She went on to Winners Bitch and Best of Breed, her edge over the WD being a bit more correct rear angulation.
Kristull Turamali Windspirit
Tall dark brindle bitch, not as good coming and going as the winner but had nice side gait and rear angulation.


Veteran Bitch
(ineligible for points)

WindAuer Kristull Windsong