SilkenFest 2004
Kristull Ranch - Austin, TX
Judged by: Sandra Moore, Avalon Borzoi
Best in Specialty Show
Kristull Dante by Cool Run


Winners Bitch/Best Opposite Sex in Specialty
Kristull Riata


Best of Winners / Winners Dog
Gryffyns Just Push Play


Reserve Winner's Dog
Kristull Zerendipity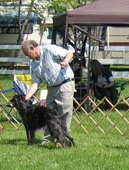 Reserve Winners Bitch
Cool Run Enchanted Mia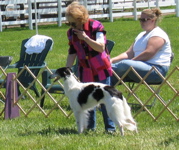 Best Puppy in Show
Kristull Carley Kohana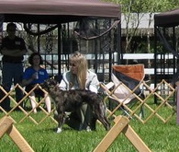 Dog Classes
Puppy Dog 9-12 Months
Windspirit Banderas by Cool Run
"Banderas"
Lovely chinchilla and white puppy who moved extremely well with a nice springy trot - a little long in body.
Novice Dog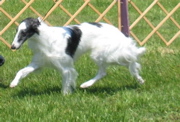 Cool Run Enchanted Barak
"Barak"
Novice dog was exquisite in type; he had a beautiful profile standing and a lovely head, well angulated rear with well let down hocks. Unfortunately, he would not trot around the ring at any time without struggling against the leash, so I could not assess movement.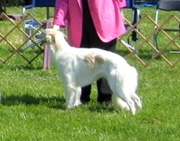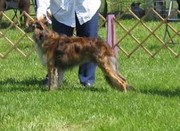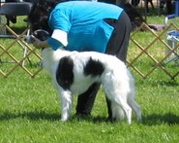 Bred By Exhibitor Dog
Gryffyn's Just Push Play
"Tyler"
First place white/gold was a nice mover with good reach, although he did break at the pasterns a bit. Stacked, this dog had the sighthound look with a lovely underline and topline, although I did not care for his nose pigment, he had the best head in this class.
Kristull Umber
"Umber"
Second place moved better and had no break in the pasterns, but his topline and underline were not as sighthoundy as first place.
Cool Run Enchanted Snowdust
"Dustin"
Third place was a lovely dog in type who would not cooperate and move out on this date.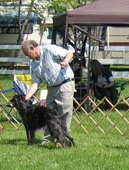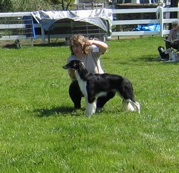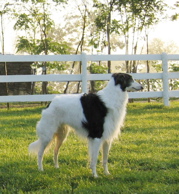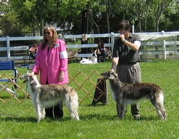 Open Dog
Kristull Zerendipity
"Ren"
First place moved moderately well but did break at the pasterns, however, stacked he was the most sighthoundy in profile in this class. He really had the most correct topline for my interpretation of the standard. Good tail carriage.
Windspirit Austen
"Austen"
Second place was a superb mover. A little long bodied, but had a nice topline for his length of body. Good tail carriage.
Cool Run Enchanted Myles
"Nobble"
Kristull Absolutly Cool Run
"Absolut"
Third and fourth place were very similiar dogs in type. They had better topline and underline than second place, but they did not move out as well.
Others present:
Kristull Yashi (Yashi)
Kristull Ivanhoe (Ivan)

Kristull Quickening (Duncan)
Three other dogs in this class (Kristull Yashi, Kristull Ivanhoe and Kristull Quickening) were the best movers who had more prosternum and reach in front than any of the male exhibits, but when stacked they lacked a look that immediately said "sighthound"
Bitch Classes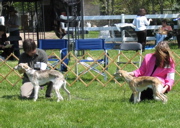 Puppy Bitch 3-6 Months
Gryffyn's Moonage Daydream
"Luna"

Gryffyn's Hazy Shade of Winter
"Winni"
Very similar puppies but hard to assess movement. Both bitches have great length and return of upper arm, but first place was more correct (shorter) in length.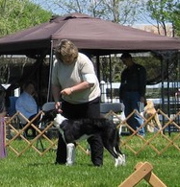 Puppy Bitch 6-9 Months
Windspirit Bellissima Kohana
"Belle"
First place moved very well - did not break at pasterns very much, but tended toward a long body and needed more underline.
Cool Run Heaven Can Wait
"Kami"
I liked her profile, topline and underline better but she was uncooperative and would not move out.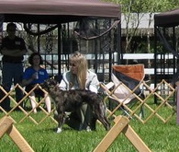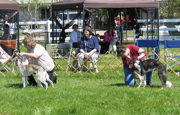 Puppy Bitch 9-12 Months
Kristull Carley Kohana
"Carley"
I loved this bitch, she moved beautifully, broke very little at the pasterns and had a very sighthoundy profile. She, like several others, could use more prosternum.
Allagante Shaningo Windspirit
"Shani"
Allagante Aisuru Raetia
"Shia"
Second and third had lovely breed type and toplines, very sighthoundy and elegant. Second place moved out better with less pastern breaking than third place. Both girls needed more prosternum. I loved the look of all three in this class.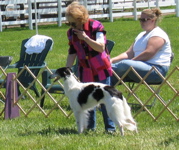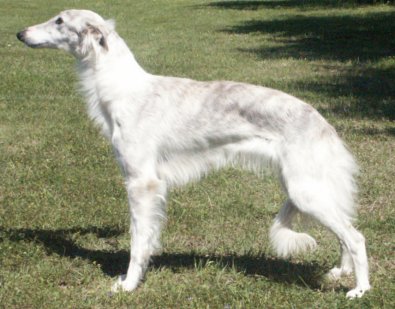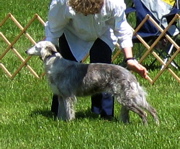 Bred By Exhibitor Bitch
Cool Run Enchanted Mia
"Mia"
First place had absolutely exquisite breed type - moved well, very little break in pasterns. She was beautiful stacked and had a lovely head and expression.
Gryffyn's Dancin' Queen
"Ginger"
Kristull Nocturn
"Nocturn"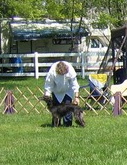 2nd- no picture


Open Bitch
Kristull Riata
"Riata"
Best mover with no breaking pasterns, on the smaller side which made her "go round" even more impressive. Stacked she had a very sighthoundy look and expression, lovely head and nice body and ribbing, excellent prosternum for her size.
Cool Run Enchanted Morgana
"Morgana"
A bit more tall and elegant, moved well and had nice prosternum, more than 3rd or 4th place.
Kristull Z-Mystery
"Mystery"
Third place bitch moved well and was very similar to 1st place, but did not have as much prosternum as 1st.
Kristull Jumpin' Jehosephat
"Josi"
Really a nice mover, lovely front, but had less topline than the first three.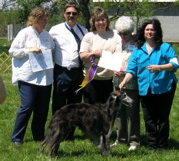 Champions
Kristull Dante by Cool Run
"Dante"
Beautiful brindle dog, no pastern breaking, well angulated rear, well let down hocks. Under all that coat he had beautiful sighthound underline and topline, just perfect neck and shoulder assembly.