SilkenFest 2016
Parker, TX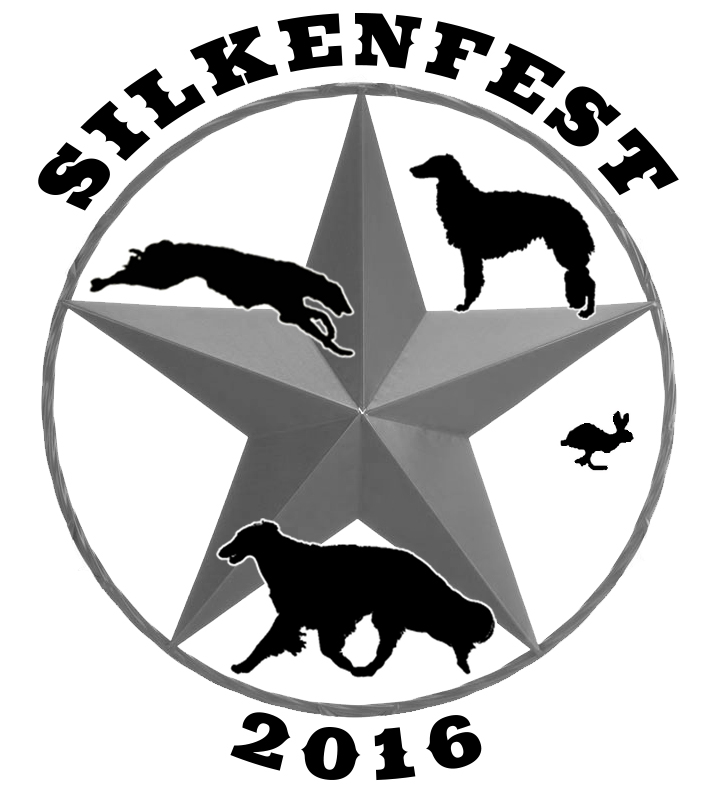 Best in Specialty Show 2015
UKC Ch. Winsome's Zenyatta at Attawat
(picture coming soon!)
Judge's Critique
I was looking for hounds that combine the classic graceful lines of a sighthound with correct athletic build indicating a fitness for function. I found it quite heartening that overall the Silkens I judged in Dallas were more even in this than it had appeared on visits to earlier Silkenfests. This would indicate to me that as a breed we are going in the right direction. I saw very few dogs with less than adequate fronts. As a whole they moved better, both in profile and on the up and back, although I would point out that some lacked a decent lay-back of shoulder and many more were too steep in return of upper arm. A further concern was a few with 'not good mouths', wry bites and a few dogs with missing teeth. Missing teeth are not desirable, but tolerable, if a P1 or P2 on a dog , but multiple and larger missing teeth must be penalised more severely. This was not the case with those dogs gaining the major & higher placings and I was thrilled to find so many lovely dogs. I could have done with more awards to hand-out.
 
Baby Puppies
3-6 month Puppy Dog
1) Klahn's Broadway's Razzle Dazzle - a nicely made baby of great shape with good bone and spring to the ribs, good outline and was making a good effort to please his handler. 
2) Bastian's Broadway's All I Care About - not quite the balance of his brother at the moment. Never-the-less, they are two very promising babies to whom similar comments apply. They must have felt the sense of occasion as both managed to complete a lap of the ring. Well done. 
3-6 month Puppy Bitch
Absent 
Altered
Novice Altered Dogs
1) Shell/Whitlock's Gryffyn's Aeyrie Sing Sing - reasonable topline, although is too upright in his construction right through causing him to lift too high in front. His movement did get a little easier as he went around. 
Open Altered Dogs
1) Vookles'/Murphy's SummerSpiritInPhenite 00Seven - needs to be stacked to his advantage, as his topline is not his best asset. He out moved & overall had better balanced quarters than those below him. 
2) Jorgenson's UKC ALCH, IABCA Com CH-B Allagante Mystic Topaz - a very curvy dog, perhaps a little overdone, who was moving close behind today. 
Novice Altered Bitches
1) Barbee's UKC CH Siendo's Piper Mirage - shows balanced proportions  that added to the attractive lines on this bitch. I liked her head and her sweet expression and she also outmoved 2nd.
2) Barbee's Siendo's Piper Saratoga - sister to Mirage but without the balance, straight through the front assembly with a short neck resulting in an exaggerated topline. Her hindquarters are more angulated which adds to the unbalanced look.
Open Altered Bitch
1) Vookles' Firebirds Star of Sagitta - a classic, well-chiseled head with great expression and correctly set small ears. This bitch has a lovely, shapely topline and underline and a superbly muscled body with nothing overdone.  Everything on this toned bitch is subtle and flowing and she moves with effortless style.
2) Johnson's IABC Int COM CH Bronze, UKC MI ME EC SN CH CT Allagante Windspirit Kokomo - not the flowing lines of the one above, being rather short in neck & flat in topline. She has good shoulder placement and complementary rear quarters. Her ears are rather large and set too low, but I liked her size.
6-9 month Puppy Dog
1) Pearce/Peters-Campbell's Attaway-Kinobi /Ghost Buster - showed great bone & angles, well placed shoulder with good return of upper-arm, complemented by an equally good rear. At this stage he appears a little long in body and I think his colouring and markings are not helping with this. He needs a bit more topline than he has at present and this may come as he matures as he is carrying a little excess weight at present, actually it looks more because of his large coat. I was pleased to see his good ground covering movement.
2) Decker's Serenity Majestic Seas - another lovely puppy, although quite different in type Not quite the angles or movement of the one above and needs to tighten up in front on the move.
9-12 month Puppy Dog
1) Pearce/Peters-Campbell's Firebird's F-104 Starfighter - a close decision between 1 & 2, first place scores higher for his topline and is a better balanced at this stage.
2) Shell/Whitlock's Firebird's SR-71 Blackbird - a pup with good bone and much to commend, just losing out to his brother today who appeared a little better balanced at this point in time.
12-18 month Puppy Dog
1) Frey's UKC CH Empyrean Autumn Breeze - on the larger side with good body, hope he will settle into his angles more yet. Good lines all through, with balance in his front and rear, well placed shoulder with good return of upper arm. Movement was good with reach and drive, effortless & ground covering.
2) Shell/Whitlock's Empyrean Autumn Equinox - brother to first, not quite the lines or movement of one above, although he does have good balance in his angles.
Novice Dog
1) Fink/Child's WindnSatin Diamonds at Midnight - this dog's markings are deceptive, so needs hands on to fully appreciate. Good head & eye with friendly intelligent expression, small well-placed ears, good length of neck, slightly arched. Excellent build to body in great condition throughout, not overdone in any way, shoulders are well laid back, correct return of upper arm with forelegs placed well under him together with a balanced well built rear, which he used to advantage on the move. WD
2) UKC CH Tangaloor Bushwhacked - larger but nicely proportioned male, who showed well He had good shoulder placement and return of upper arm together with a balanced rear, could have had a little more length through the loin, moved well.
Bred by Exhibitor Dog
1) Jone's UKC GRCH Kumbaya Macadamia - on the large side, although I did not care for his head or ear placement, he was a very well balanced dog with flowing top-line and good underline, had good shoulder placement, & good rear which he used to advantage on the move, covering the ground with ease.
2) Pearce/Peters-Campbell's Attaway-Kinobi Marcasite; another larger strongly built male, overall impressive in shape, though not the angles or movement of the one above.
American Bred Dog
1) Taylor's UKC GRCH Kumbaya Moon Tide Effect - attractive lines, has a long upper arm, though appears as reasonably angulated front & rear. I would prefer more second thigh, moved okay.
2) Sander's Kumbaya Silkendream Guiness - great fringing around neck & ears setting a good expression. Although he moved quite well, he has flat front feet, quarters are balanced, exaggerated in topline.
Field Performance Champion Dogs
1)Russell/Buhrdorf's UKC GRCH Firebird's Lone Ranger - effortless ground covering action, well-developed muscular condition, overall good shape, and a little steep in fall away.
2) Hayes's SummersSpirit Chipotle - a little heavier type, nicely put together, good shoulder and return of upper arm, a little more bend of stifle would balance him better, well muscled throughout, liked him too.
Open Dog
1) Ceballos/Miller UKC CH Kristull Mingo of Dreams End - good shoulder placement and return of upper arm on this dog, liked his overall balance and he moved well.
2) Jone's UKC CH Samun Silkendream at Kumbaya - well-presented dog with long silky coat, moved a bit close behind, shapely topline, front feet could be better.
Veteran Dog
1)Pearce/Deis UKC CH, ISWS CH Firebird's Dare to Dream - this dog excels in his lovely lines, flowing from his head through his well-muscled neck and powerfully built body. He moves well.
2) Moline's Springlane Flying Comet - has great depth of chest, with good balance to front and rear quarters, topline is flatter than I like, carrying a little extra weight.  He was out-moved by the one above.
Veteran Bitch
1)Taylor's UKC GRCH, NAKC CH, IABCA Int CH, ISWS CH Allagante Hot Tamale, beautiful feminine head with the darkest pigment enhancing her lovely expression, in great body and condition, she has balance both in her quarters and her lovely lines, and she moves like a dream.
2) Frey's UKC GRCH Gryffyn's Aeyrie Sylvan Song - lovely lady of nice size with sweet expression, in good body condition and turned out well. Picking her front up a little on the move.
Veteran Bitch over 10 years
1)Shell/Whitlock's UKC GRCH, ISWS CH Gryffyn's Aeyrie Serenity-  grand old lady with a sweet face who still had a spring in her step, deep brisket making a nice underline and still holding her good topline.
6-9 month Bitches
1)Sanders/Hicks's Allagante Celestial Starfyre - at this age a very balanced girl with a good topline and underline, attractive head with good eye, friendly, intelligent expression, good length to her neck leading into good shoulder placement with enough return of upper-arm.  Movement was good and she behaved well.
2) Child's WindnSatin It's My Party- another promising little girl, good depth to her brisket, quarters appear balanced at this stage, she just needs to settle a bit.
9-12 Month Bitches
1)Shell/Whitlock's Gryffyn's Aeyrie X-Quisite - good head with sweet expression, good balanced quarters and outline at this stage, moving quite well, just needs to settle more.
2) Isek's Clayborn's Phantom Night Owl- attractive head and expression, she needs to relax more, handler is not getting the best out of her at moment on the stack, moved okay.
12-18 month Bitches
1)Brown's Hunter's Run Corvette O Siendo - lovely chiselled head with sweetest of expressions, very balanced young lady with a good length of neck, topline, and graceful underline, moving well.
2) Moore's UKC CH Hunter's Run Cuda, sweet head and expression, good neck into well laid shoulders, needs a little more 2nd thigh.
Novice
1)Child/Fink's Hunter's Run Charger - attractive head and expression, liked her topline. She has balance all through with good shoulder placement and return of upper arm and she moved well, needs to gain a little more confidence.
2) Shell/Whitlock's Gryffyn's Aeyrie Light Up The Sky - attractive head, good length of neck, not the topline or balance of 1 above.
Bred By Exhibitor Bitches
1)Shell/Whitlock's Gryffyn's Aeyrie Here I Go Again - lovely balanced angles good length of neck, liked her a lot, moved well.
2) Frey's UKC CH. Empyrean Harvest Moon - similar comments apply, just not quite the front of the one above, though still a beautiful bitch.
American Bred.
1)Shell/Whitlock's UKC CH SummerSpirit Gryffyn's Farrah - sweet head, very well proportioned overall with good balanced angles front and rear, would like her to move out just a little more. RWB
2) Stetson/Campbell's UKC CH Aigrette's Winsome Lass, good topline and underline, balanced in front and rear quarters.
Field Performance Champion
1)Sanders's Windspirit Allagante Sienna, attractive lean chiselled head with good overall shape, excellent muscular condition, upright in upper arm, moved reasonably well.
Open Bitch
1)Pearce/Stetson's UKC CH Winsome's Zenyatta at Attaway -  stunningly beautiful bitch, most attractive head with visible veining and with the sweetest expression accented by black pigment. She is balanced throughout, has great body proportions with just the right amount of spring to her ribs, her angles and lines are balanced and good, when she relaxes, her top-line is lovely and she moves like a dream, ground covering with precision and drive from the rear. Pleased to award her Winner's Bitch, Best Of Winner's and Best In Specialty Show. I was thrilled to hear this completed her ISWS Championship title and then to see her compete so well in the field next day - congratulations, I am sure she has more in the tank yet.
2) Decker's UKC GRCH Winsome's Just a Breeze, nicely proportioned with good topline and underline, tough meeting the one above today in such form.
BOSS Safan/Hyland-Fisher's UKC CH, ISWS CH Cool Run Andrew Wyeth - exceptionally well balanced dog of wonderful proportions all through, classically beautiful chiselled head, in glorious condition with deepest black shining coat. He has great ring presence & flowed around the ring in great style with his handler as if he owned it.
Awards of Merit
Taylor's UKC GRCH, NAKC CH, IABCA Int CH, ISWS CH. Allagante Hot Tamale
Wall's UKC CH ISWS CH Legend Marshmallow Crème
Peters-Cambell/Pearce's UKC CH, ISWS CH Attaway-Kinobi High Noon
Shell/Whitlock's UKC GRCH, ISWS CH Gryffyn's Aeyrie Empire
Strawn's UKC GRCH, ISWS CH Winsomes's Breeze On By
Judge - Gill Grist (Endevor)