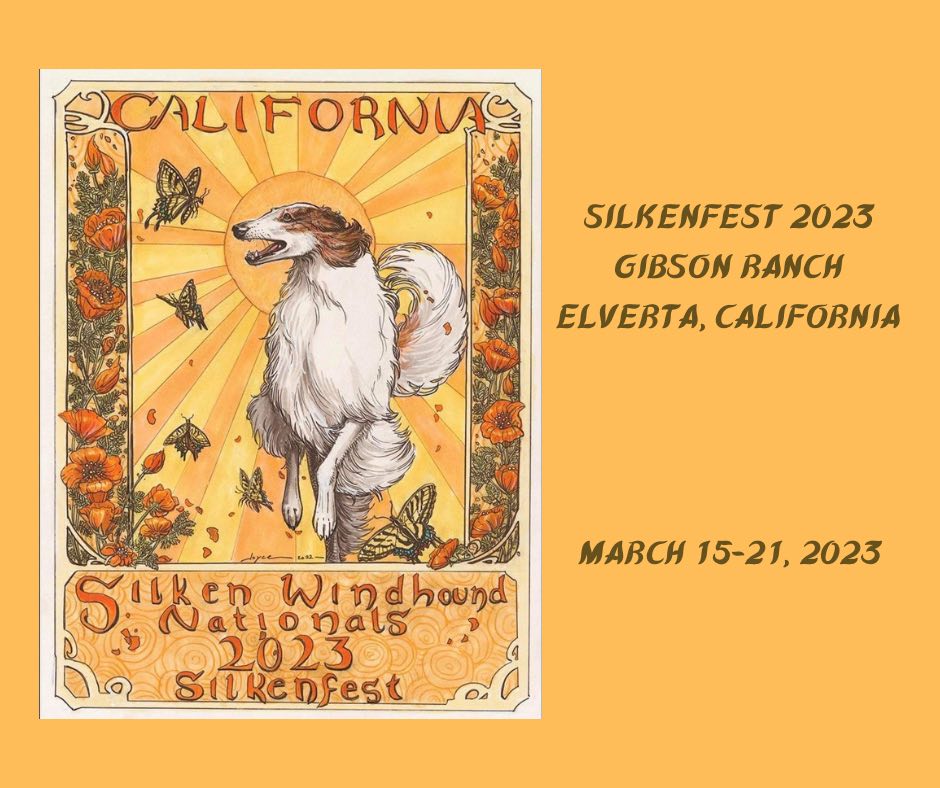 The 2023 International Silken Windhound Society National Specialty
Featuring
ISWS National Specialty
UKC Obedience & Rally Obedience trials
ISWS Puppy & Veteran Sweepstakes
LGRA Silken Windhound National Race Meet
ASFA Silken Windhound National Specialty Field Trial
ISWS Fast DASH
Note: The online entry form does not include performance events such as ASFA, LGRA, Fast DASH, or the UKC Rally Obedience trials. You will need to download the Premium and use the attached entry forms for the events you wish to enter.
Hotel & RV Accommodations
TownePlace Suites by
Marriott Cal Expo
1784 Tribute Rd
Sacramento, CA 95815
This hotel is a 25-30 minute drive from Gibson Ranch and Lake Minden RV Resort. There are several restaurants within 2 miles of the hotel for evenings out.
When making the reservation please say you are part of the "Silken Fest (ISWS)" Group.
GUEST ROOM RATES:
The rate is $139. Per night Per suite which has 2 beds and an efficiency kitchen. Additionally there is a one-time pet fee of $100 for your entire stay. Booking for the special SF rate must be made through the hotel directly: 1 (916) 920-5400
Room rates quoted above are per room per night, net rates, and subject to applicable tax which is currently a 15.7% occupancy tax. Tax is subject to change without notice. Rates include complimentary hot breakfast, Wi-Fi, and self-parking for all registered guests. Breakfast is available Monday-Friday from 6:30am – 9:00am and Saturday-Sunday 7:00am – 10am.
For RV camping information, see the RV CAMPING section of the Premium
Gibson Ranch Park
8556 Gibson Ranch Rd
Elverta, CA 95626 916-806-3868
We are offering eye and thyroid tests on Thursday this year at SilkenFest. We are still looking for a possible cardiologist, but so far we've had no luck. Updates will be posted on the ISWS website, Facebook SilkenFest 2023 and Silken Windhound Facebook page.
Eye exams will be $37
Thyroid tests will be $125 plus $15 for OFA recording.
Please contact Michelle Smith to schedule any health tests: mksmith42@gmail.com
Obedience & Rally Obedience
To sign up for Obedience/Rally Obedience, use the link below to go to the UKC's page about the event. Once there you can enter by filling out an entry form found at the bottom of that page and send it to the email listed on the page under "Please send Pre-Entries to".
Entries for Obedience/Rally Obedience must be received by February 12th, 2023.
You can purchase SilkenFest merchandise at the official 2023 SilkenFest Merch site silkenfest.creator-spring.com or by clicking the preview image below.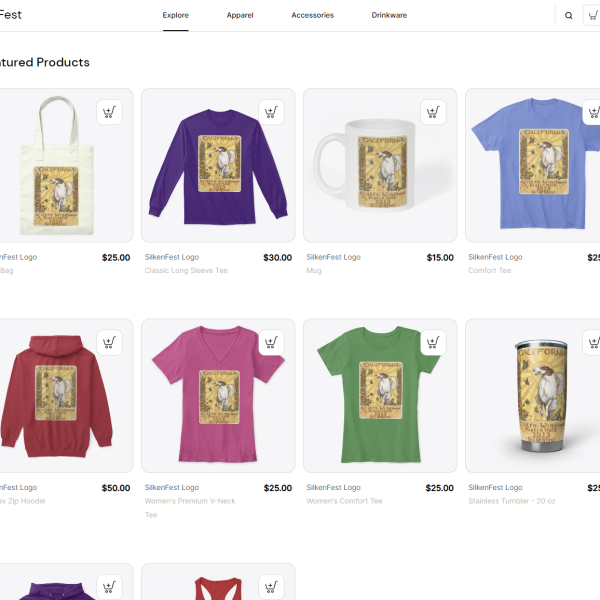 SilkenFest 2023 Award Sponsorship
You can sponsor a SilkenFest award online at the official 2023 SilkenFest Sponsorship site silkensponsorships.square.site or by clicking the preview image below.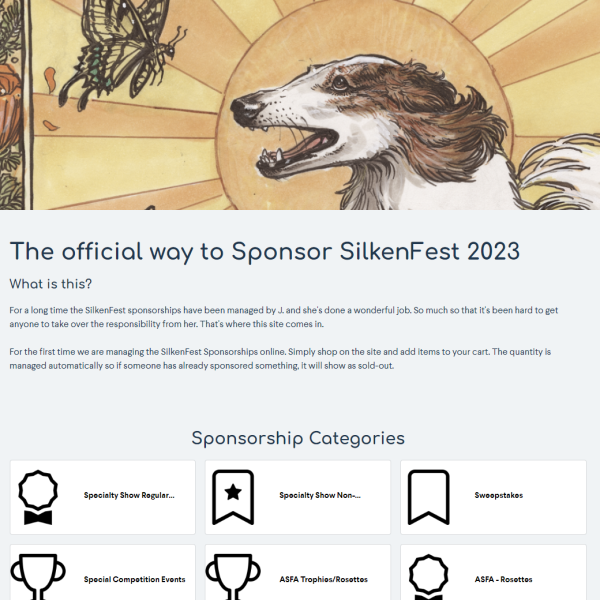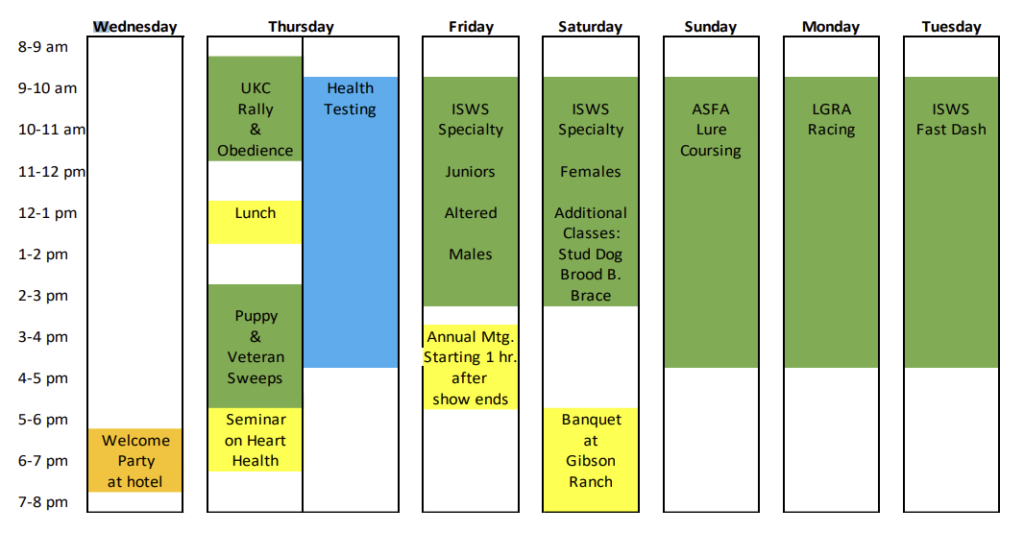 Wednesday, March 15, 2023
5:30 p.m. Welcome Party
Thursday, March 16, 2023
8:00 a.m. Check-in
8:30 a.m. UKC Rally & Obedience Trials
UKC SPOT testing
11:00 a.m. – 1:30 p.m. Lunch Break
2:30 p.m. National Puppy and Veteran
Sweepstakes
After Win Photos- Health Seminar
Friday, March 17, 2023
8:30 a.m. National Specialty – Day 1
Junior Handler & Junior Showmanship
All Altered Entries through Altered BOB
Intact Dogs
Veteran Dogs & Bitches
5:30 p.m. ISWS Annual Meeting
(or 1 hour after completion of Day 1 of Judging)
Saturday, March 18, 2023
8:30 a.m. National Specialty – Day 2
Intact Females
Best of Breed
Followed by Stud Dog, Brood Bitch & Brace
6:30 p.m. Awards Banquet & Silent Auction
Sunday, March 19, 2023
8:30 a.m. Roll Call- ASFA Field Trial
Monday, March 20, 2023
8:30 a.m. Roll Call- LGRA Race Meet
Tuesday, March 21, 2023
8:30 a.m. Silken Windhound Fast Dash
SilkenFest 2023 Committee
National Coordinator/Director – Jerilynn Adin Safran
National Performance Chair – Keith Hicks
National ASFA Delegate & SF Field Secretary – Lori Silvestri
National Grounds Chair – Keith Hicks
National Performance Committee – Lori Silvestri, Keith Hicks, Jolene Hicks
Hospitality & Welcome Committee – Sue Godfrey, Rose Zapel
Trophies & Judge's Gift – Jolene Hicks, Sue Mohler
Hotel & RV Liaison – Jerilynn Adin Safran
Meals & Banquet – Barb Franklin, Sue Godfrey, Rose Zapel, Robin Johnson
Show Chair – TBD
Show Steward – Shirley Briggs O'Brian
Show Secretary – Jan Decker
Premium/Catalog Team – Jan Decker, Iola Stetson, Nic & Charliann Cross
ISWS Altered, Sweepstakes & Conformation Show Steward – Shirley Briggs O'Brien
UKC Obedience & Rally Obedience Coordinator – Keith Hicks
UKC Obedience & Rally Obedience Secretary – Jan Decker, Jennifer Gysler
Obedience, Rally & Conformation Steward – Jennifer Gysler
Ribbons, Medallions & Rosettes – Jerilynn Adin Safran
Silent Auction & Fundraising – J. Vookles, Regina Kurandina, Barb Franklin and others
Seminar Coordinator – Iola Stetson
Vendors Coordinator – Ashley Cirimeli
Health Testing – Michelle Smith
Wearables – Joyce Chin, Jolene Hicks
SF PR Chair – Echo Prafke-Marson
SF ISWS Fast Dash – Lori Silvestri, Keith Hicks