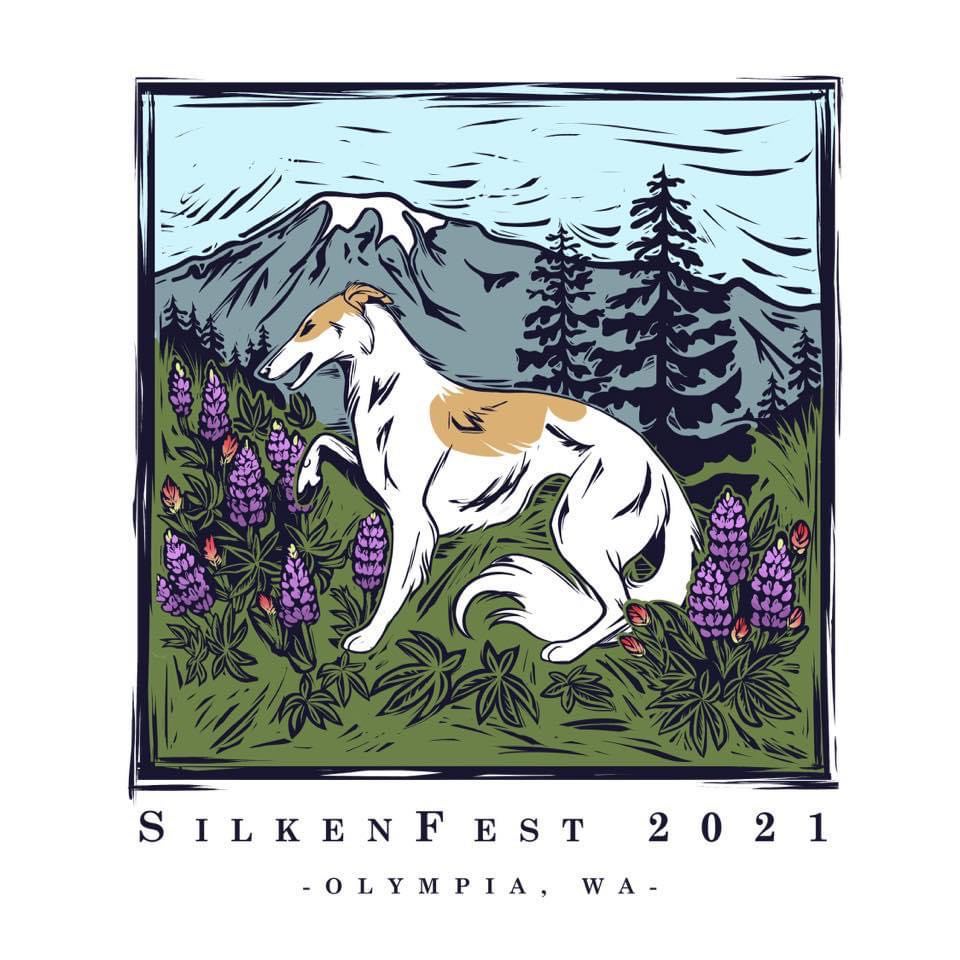 The 2021 International Silken Windhound Society National Specialty, Sept. 16th - 21st
Conformation held at the Hotel RL in Olympia, Washington and Performance Events held at the Tacoma Polo Club in Roy, Washington
Questions or comments can be posted emailed to silkenfest@gmail.com
Looking for more information, entry forms, or forms to order catalogs, ads, meals, or Silkenfest merch? Click here to download the premium! This includes orders for Catalogs, Meals, Ads and Wearables.
ALL ENTRIES for SWEEPSTAKES, CONFORMATION, UKC OBEDIENCE, and RALLY OBEDIENCE CLOSE ON 8/7/2021 AT 8:00 P.M. Central Time.
Additional note for wearables. The premium states "Payments via PayPal, including 5% PayPal fee, to…" This is a misprint, there is no additional 5% fee. Please do not include the 5% fee in your calculations. If you have already sent in your order with the 5% added, please email Jolene at this link with your order information to get a refund.
Hotel & RV Accommodations
Hotel
Hotel Direct: 360-943-4000 and reference SilkenFest when calling to make your reservation and the room rates mentioned on the right.
Direct Web Link:  https://www.redlion.com/hotel-rl/wa/olympia/hotel-rl-olympia
Use the code INTE0915 after selecting the group option at the top of the page (please note if you are entering this code online the "0" is a zero, not a letter)
The way their computer system works, your reservation will show their normal pet fee of $25 per pet with a $100 maximum unless you choose zero pets; the hotel sales manager would like people to choose zero and she will fix it in the computer later.
Hotel Direct: 

360-943-4000

 and reference SilkenFest when calling to make your reservation and the room rates mentioned on the right.
RV Parking
There is RV parking at the Hotel RL. There are 8 spots with electric and water hookups available for $65.00 per night.
The RVs must be no more than 32 feet in length to park here. If your RV is longer, we offer dry camping without hookups for $35 per night in the hotel parking lot (this fee is waived if you also book a room).
Contact olyhillary@gmail.com for RV reservations.
There is also free RV parking at the Tacoma Polo Club field Saturday night through Tuesday for no charge. There are no hookups, and no reservation is required.
Alternative RV Parking
For larger RVs or if the Hotel RL is full (15 minute drive):

American Heritage Campground
Website and Map/Directions
Phone: 360-943-8778
9610 Kimmie St SW
Olympia, WA 98512

Dogs are welcome. Please see rates and rules for more information.
Hotel Etiquette and Rules
Hotel

The exhibitor assumes the entire responsibility and liability for losses, damages, and claims arising out of exhibitor's activities on the hotel premises and will indemnify, defend and hold harmless the Hotel, its agents, servants, employees, and the ISWS from any and all such losses, damages, and claims.

Grooming

A bathing and grooming area will be available. Dogs must NOT be bathed in the guest rooms and room towels must not be used for drying dogs. Please bring your own dry towels, or let us know on the order sheet if you would like us to provide some.

Hotel Grounds

The Red lion is very gracious about letting us walk our dogs around their property. The grounds committee will provide plastic bags, waste containers, and scoops. You must pick up after your dogs at all times. There will be a $20 penalty for not picking up after your dog. All money collected will go to the SilkenFest General Fund.
Do not exercise your dog at entrances, in front of or on the hotel building itself and in posted non-dog areas.
Guest Rooms

All unattended dogs must be crated.
Plastic sheeting must be under crates and will be provided at the registration desk at the time of check-in. You must pick up your plastic sheeting and place under crates in the room before dogs are brought into the room.
Please bring old sheets or blankets if you allow dogs on the beds. Any and all damage done by dogs is the responsibility of the owners. The ISWS will assist in the collection of damages, if necessary.
Maids will come in to service the rooms daily. As many of us will be in and out on Friday, the maids will honor the Do not Disturb sign. If maid service is declined on the other days (using the Do Not Disturb sign), the hotel will set a time to inspect the room.

Checkout

Checkout time is before 11:00 am.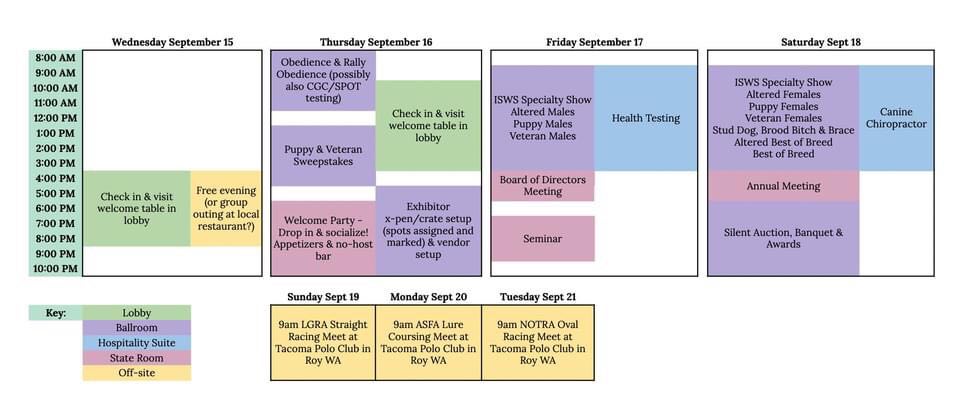 Wednesday, Sept 15th
4-8pm


Checkin & visit, welcome table in lobby
Thursday, September 16th
8-11am, Ballroom

Obedience & Rally Obedience (possibly also CGC/SPOT testing)

10am-4pm, Lobby

Checkin & visit welcome table in lobby

1am-4pm, Ballroom

Puppy & Veteran Sweepstakes

4pm-10pm, Ballroom

Exhibitor x-pen/crate setup (spots assigned and marked) & vendor setup

6pm-10pm, State Room

Welcome Party – Drop in & socialize! Appetizers & no-host bar

5pm-10pm, Ballroom

Exhibitor x-pen/crate setup (spots assigned and marked) & vendor setup
Friday, September 17th
9am-3pm, Ballroom

ISWS Specialty Show:

Altered Males
Pupy Males
Veteran Males

9am-3pm, Hospitality suite
4-5pm, State Room

Board of Directors Meeting

7-9pm, State Room
Saturday, Sept 18th
9am-3pm, Ballroom

ISWS Speciality Show:

Altered Females
Puppy Females
Veteran Females
Stud Dog, Brood Bitch & Brace
Altered Best of Bred
Best of Breed

9am-3pm, Hospitality Suite
4-5pm, State Room
5pm, Ballroom

Silent Auction
Banquet
Awards
Sunday, September 19th
9am, Off-site at Tacoma Polo Club in Roy, WA

LGRA Straight Racing Meet
Monday, September 20th
9am, Off-site at Tacoma Polo Club in Roy, WA
Tuesday, September 21st
9am, Off-site at Tacoma Polo Club in Roy, WA
SilkenFest National Co-Chair – J Vookles & Karen Sanders
Performance Co-Chairs – Karen Sanders & Tammy Mills
LGRA Chair – Karen Sanders & Tammy Mills
ASFA Chair – Lori Silvestri
NOTRA Chair – Karen Sanders & Tammy Mills
UKC Obedience/Rally Chair – Keith Hicks
UKC Obedience/Rally Secretary – Julie Lechuga
Show Secretary – Julie Lechuga
Conformation Ring Steward – Julie Lechuga
Ribbons/Rosettes/Medallions – Jerilynn Adin Safran
Trophies/Judge's Gifts – J Vookles
Auction/Fundraising – J Vookles
Grounds – Charles Hof
Health Testing – TBD
Hospitality – Lori Madsen-Idsinga & Maybelle Adeliz
Hotel Liaison – Hillary Tregillus
Seminars/ Vendor Fair – Hillary Tregillus
Banquet – Hillary Tregillus
Website – Janine Pracht